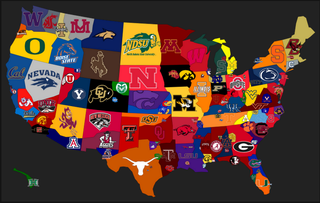 Man oh MAN did you see last week's games?! DID YOU?!?! I'm sincerely asking, because I didn't. I was at a cheerleading competition with my daughters all weekend long. Guess who else didn't see Michigan and Clemson lose to unranked teams?!
The CFP committee apparently didn't see those games.
I'm sure that Iowa, with their 5-4 record going into the game, was just a true powerhouse waiting to smash Michigan. And don't forget the equally-impressive 5-4 PITT beating Clemson! I mean, getting beat by a NONRANKED, BARELY OVER .500 TEAM LATE IN THE SEASON ISN'T ANY REASON TO BE JETTISONED OUT OF THE TOP FIVE, IS IT?!
It's bullshit. Moving on.
So Louisville ran into the buzzsaw that is a healthy Tom Herman-coached Houston Cougars team on Thursday night and got thoroughly stomped. This might stop Lamar Jackson from winning the Heisman. It may also help Tom Herman have any head coaching position that he wants. My super secret contacts say that he wants to go to Austin, but I don't know if there will be vacancy there.
Apparently, a few SEC teams think that it's "Beat Up Some Random Kid" week. With Bama playing Chattanooga... You know what? No. I'm not even going to mention the rest. That's despicable enough.
GOTD: Washington St. vs COLORADO!! This will be a great game. The Buffs have really made shocking strides this season, and Washington State is helmed by The Pirate, AKA The Mad Scientist, AKA Mike Leach. Expect an offensive spectacle you won't be able to see down in Tuscaloosa today.
Here'S the schedule, in CT:
Watch the oklahoma- West Virginia game tonight. Should be a hoot.
Who are you cheering for? Against? Is the CFP any better than what we had before and complained about then? What will be the good game to watch that I missed? TALK TO ME!