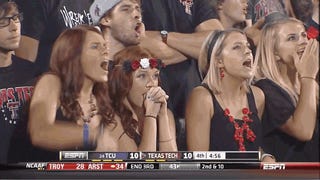 Behold! The ladiest ladies that Texas Tech has to offer. No, I'm not being facetious.
Blowout of the week? Kansas vs TCU. It's a 45.5 point spread that I fully expect to be uncovered, if not beaten like a redheaded stepchild who talked back.
Game(s) of the week: Memphis vs UH, Alabama vs Miss. State, Oklahoma vs Baylor. I'm calling it, there will be an upset for one of these games.
I've been at a cheer competition since 6:45 this morning, posting this from the stands. Enjoy the games, as I probably won't get the chance.
Who ya cheering for? Who ya hate? Who ya say sucks! ALL GAME TIMES ARE IN BEST (Central) TIME ZONE.