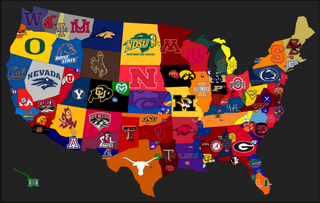 WEEK NINE IS UPON US!! We've already had a couple of games played this week. TCU rolled against West Virginia (expectedly), but Pitt fell (unexpectedly). There is only ONE game today that puts two Top 25 teams together, but there SHOULD be some upsets today. But WHO?!
So the #9 Hunchbacks of Notre Dame are playing #21 Temple. It'll be played at wherever the hell Temple is and not at Touchdown Jesus Stadium. Will this give Temple the edge? PROBABLY NOT.
I'm calling it right now: Texas Tech beats Oklahoma State. The game is being played in Lubbock (a flat, desolate part of Oklahoma that Texas kept as it's own, for some odd ass reason), and Tech really is underrated. They got trounced by o.u. last week and might want some revenge.
I also hope that the Gophers win against Blue. Because Harbaugh.
The lack of Top 25 teams playing each other is weird, but it just means that there could be, and almost certainly WILL be, some upsets and surprisingly close games. Who shows up? Who caves? This is the week where we find out who's for real and who are poseurs.
Tell us who you think will fall, who will reign victorious, and who are soft teams hiding behind a weak schedule. GO.
ALSO, all times are Central Time. And don't forget to turn your clocks back tonight one hour/party for an extra hour because the bars will be open for that extra 60 minutes!