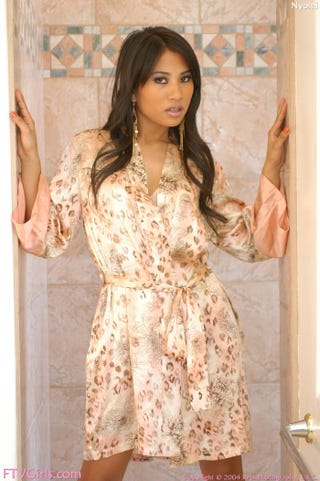 Who is she? Some smokin' hot porn star of Indonesian descent who was around about a decade ago.
She was the sister (twin sister? according to some sources, though I don't see it) of Jade Marcella, who was also a porn star.
Nyomi became a porn star directly through the influence of her sister, so protip: don't become a porn star unless you want your sister to also become one.
You might be wondering since her sister is also a porn star if she ever did any scenes with her sister.
To answer your question: yes. Where to find them? Consider that your own responsibility.
I hope you're not asking for the source of these pictures, the obvious watermark and logo kind of gives it away. This isn't /hc/ after all.
Where is she now? Hell if I know. Porn stars come and go, tis the nature of the business.
All I know is I had the biggest fucking crush on her back in the day. I've also learned that apparently having a crush on a porn star is cheap and skeevy.
Well hopefully this restores some of the balance that's apparently been "lost" on Cigar Lounge., You're welcome.