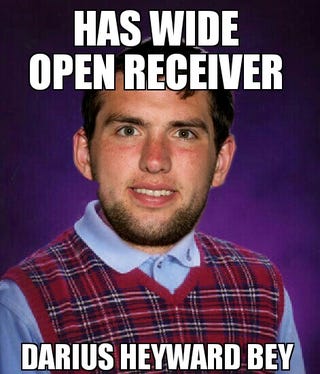 Pat, you have to be loving the dumpster fire that the Colts' season has become. Texans gotta start winning some games though, or it won't matter. *Grabs the Texans by the lapels* Do you want the Jags to win the division? DO YOU?
I'm pretty sure the Broncos are going to hammer the Colts today; I don't usually like to be overconfident about my team playing any team, but it's hard to see how the Broncos lose here. The offense is starting to find its rhythm, we have probably the top secondary facing Andrew Luck who has all of a sudden gone pick-happy, and the Colts offensive line is a few handfuls of straw bound together by duct tape and paper clips. Not to mention (speaking of pick-happy) that since the bye Peyton Manning has cut his interceptions down from game-changing pick-sixes to inconsequential ones the other team can't get points off of. At least for the moment, anyway...
Wow, we get two good early games this week! Packers at Panthers and Raiders at Steelers. I'm not even sure how to pick those two. I would think that the Steelers could handle the Raiders since the Raiders have to come all the way across the country, plus they're still young and learning the new coach's system, but I guess I wouldn't be shocked if they can beat the Steelers who don't have Le'Veon Bell for the rest of the season. I think I'll be mostly watching the Packers and Panthers, though. I have no idea who will win, but it should at least be entertaining.
I can't bring myself to care very much about Sunday Night Football. I guess I hope the Eagles win. Because fuck the Cowboys and fuck Greg Hardy.
I really thought John Fox and Adam Gase would have more of an immediate impact in Chicago, so it wouldn't surprise me if the Bears start winning some games. I think they'll probably beat the (404 location not found) Chargers.
What are you watching today?