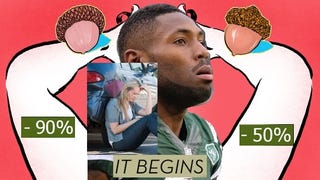 Lost in a sea of "low-value clickbait" is a less discussed undeserved reputation of what it feels like to be put on the roster bubble by your girlfriend when it comes to sexual satisfaction, making the decisions during a car buying purchase and getting 35% off on Goat Simulator. I mean, let's face it, that's the very definition of being whipped right there. In a Gawker special exclusive, our sister site Squeezing By Barely Adequately Lifehack'n'Spin (Because All I Need Is C-Rank to Progress) will teach you the secrets to great cunnilingus for the small-peened even though you might have already been screwed over quite adequately from your most recent car purchase while waiting for Gabe Newell to finally make some sort of Half-Life statement.
The Official Squeezing By Barely Adequately Lifehack'n'Spin (Because All I Need Is C-Rank to Progress) Introductory Video
For this guide, I've enlisted the help of Kellen Winslow Jr. and Antinio Cromartie because they're sports figures and in case you haven't noticed it's ridiculously easy to get a sports figure cameo. I mean, who doesn't want to sit on even bigger piles of cash, amirite? I don't even know what teams they play for but hey, this is a guide towards cunnilingus so let's face it whoever's doing this will be making it up as they go along anyway.
First: Put You At Ease In Your Relationship With Small Penis Humiliation
The first thing you're going to have to get over is the fact that you have a small peen. E-peen, real world-peen, it doesn't matter, you're not as big as the next guy. You know what they say about the grass always being greener, right? Why do you think your wife always likes to stare at neighbor Jim Bob when he's mowing the lawn shirtless?
But hey, you married her, you have kids, your biological mission is done anyway. And you have kids - you're at that stage in life where "sleeping" literally means sleeping. Got time for sex? Nah, I don't even have the energy mane. At least you have a master's in history, which means you have something to think about while you put that degree to use along with the phrase "would you like to supersize that?"
...oh, sorry, bad choice of words. My bad.
Kellen Winslow Jr.'s flaccid penis
Get Comfortable Because You're in it for the Long Haul
When you walk into the car dealership, just remember that you're probably going to spend a few hours negotiating, but also remember that it's worth the thousands of dollars in savings through haggling. Just remember these key haggling points:
- Yes, the dealership sales manager will be staring straight at your crotch.
- Yes, he will note your small penis.

- Yes, he will be staring at your wife and thinking, "man that guy has a small dick, I bet I can score with her super-easy. All I have to do is remember to make her the center of attention, pay special attention to the commisure, and don't treat oral sex like the running of the bulls. Oh, and that it might take 20 minutes for her to orgasm, probably because she's never experienced one before on the account of how small his penis is."
- No, buying Duck Dynasty: The Game really isn't worth it even if it is 90% off on Steam.

- No, despite what the sales manager tells you, you don't need to pay for the optional rear spoiler in order to make sure your car is adequately grounded to the ground.

Kellen Winslow Jr.'s erect penis. Note that despite its huge girth, it is still quite solidly grounded to the ground.
When did you realize you had a small dick? What was that like?
At this juncture during the negotiation, this is probably the question that pops into your head. It could come about during a number of circumstances: perhaps the sales manager realizes just how thoroughly whipped you are and directly asks you. Maybe your wife will ask you because she feels that you are a moron who can't negotiate a good price for free samples at the FroYo store (#YOLO!) Maybe this is just what living with her is like, a constant barrage of verbal abuse and insults that leave you thinking, at least it's cheaper than alimony payments.
This might be the time for a little distraction. Pull out your phone and start playing DOTA 2 for example. This is an effective buying tactic because it shows the sales manager that you really aren't serious about buying a car at all, and because this is a Chevy dealership and he has to unload each and every one of the current model year's Malibus and Trax's to someone he's going to be desperate enough to play along and might knock the price down (you know, to match your penis size). So you start playing, and then you find out that you've just been griefed by two guys named COWBOY JIM and SMALLSOUTHERNPENIS while they taunt you over voice chat with Baneposting (I'm a Big Guy for you proudly proclaims COWBOY JIM, which is especially hurtful) and you throw your phone across the showroom floor.
Throwing your phone in frustration, by the way, is kind of a small-dicked move.
every Oculus Rift will come with an Xbox One gamepad
You might want to skip out on the virtual sex simulator, because sadly even there you cannot escape the small size of your penis. Just remember, at the very least: Consistency is key for most women (even virtual women, which is probably as close as you're ever going to get), so once you've found something that works, stick to it and do not stray from the path!
UPDATE: We the staff here at Squeezing By Barely Adequately Lifehack'n'Spin (Because All I Need Is C-Rank to Progress) have received a number of tips regarding selling a car in exchange for "the weirdest sex of your life" (apparently involving hotwiring a vibrator directly to your car's fuse box), but we have decided to reject these entries on the basis of them being fake (no girl will want to give you "the weirdest sex of your life" on the account of your microscopically small penis).